Are you ready to take your financial connections to the next level? We're thrilled to announce a major leap forward in our mission to revolutionize financial services in Africa. Eversend is excited to introduce our new transfer corridor, making it effortless for you to send and receive money between Cameroon and five other African countries, including Nigeria, Ghana, Kenya, Rwanda, and Uganda.
Opening Doors to Opportunity
At Eversend, we believe in creating possibilities and empowering you to thrive. With the launch of this new corridor, we're breaking barriers and making cross-border transactions simpler and more efficient than ever. Now, you have the power to seamlessly connect with loved ones, support businesses, and explore new opportunities across these dynamic African nations – all from the convenience of your Eversend account.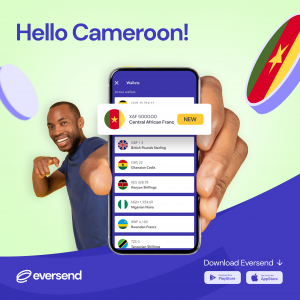 Why This Matters
The new transfer corridor is more than just a convenient feature; it's a catalyst for growth and financial inclusivity. Here's what it means for you:
Seamless Money Transfers: Say goodbye to hassle and delays. Our cutting-edge technology ensures swift and secure money transfers, giving you peace of mind that your funds will reach their destination promptly.
Empowering Businesses: Are you a business owner looking to expand your horizons? This corridor opens up exciting growth opportunities, enabling you to build partnerships and expand operations across the participating countries.
Strengthening Bonds: We understand the importance of staying connected with family and friends. With our new corridor, you can effortlessly support loved ones in multiple African nations, fostering stronger ties within the continent.
How to Get Started
Getting started with the new Cameroon transfer corridor is easy. If you already have an Eversend account, you're just a few clicks away from experiencing the seamless magic of cross-border transactions. Simply log in to your account or download the Eversend app from the app store, fund your wallet with the various top-up options available, and you will be ready to send money in no time.
For any inquiries or assistance, our dedicated support team is here to help. Feel free to reach out to us at support@eversend.co, and we'll be more than happy to guide you through the process.
Join the Financial Revolution
Eversend remains committed to driving positive change in Africa's financial landscape. With our user-centric approach and innovative solutions, we're making banking services accessible, affordable, and efficient for all.
This new corridor is just the beginning of our journey together. As we continue to innovate and expand our services, we promise to be your trusted partner in realizing your financial dreams.
Thank you for choosing Eversend as your financial partner. Together, let's embrace the boundless potential of financial connectivity in Africa!