It's February already? Oh yes, it is and it always comes with the warm, fuzzy feelings that the month brings. We are excited about it too and want to share the love.
When people send money, it is not just money they are sending. It is hugs and kisses, warm embraces, good thoughts, and lots of care they are sending. That is why we have come up with a campaign to amplify the love being sent all around.
To celebrate the month of love, we shall reward lucky customers who send $30 or more weekly (in dollars or their local currency). We shall also have lots of giveaways on our social media channels so be sure to follow us on Twitter or Facebook.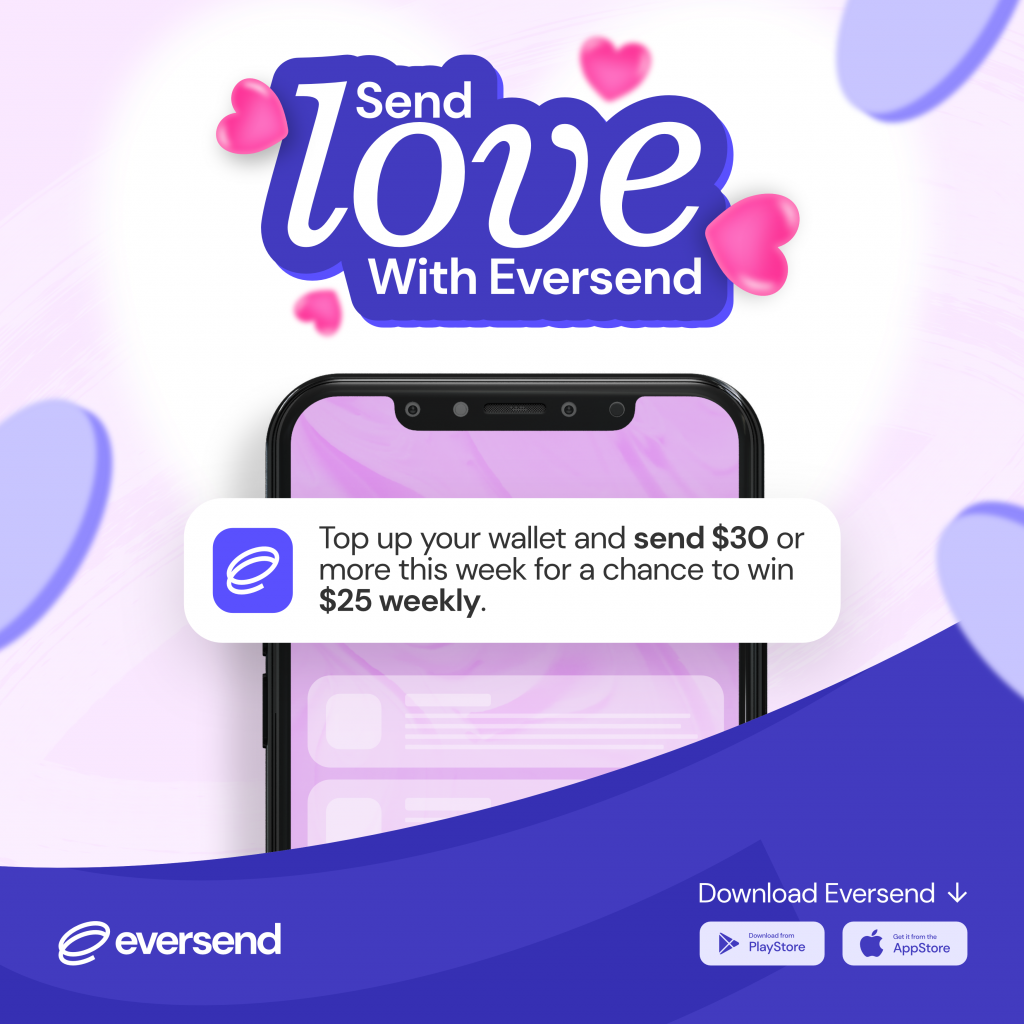 How do I participate in the campaign?
Step 1: Download the Eversend app and register if you haven't already. (it is available for both Android and iOS).
Step 2: Fund your wallet using mobile money, bank account, debit/credit cards, and other methods (If you do not know how here is a little guide to help).
Step 3: You can now Send Love to those you care about in Nigeria, Kenya, Ghana, Rwanda, and Uganda for a chance to be among the weekly cash prize winners of $25.
Just so you don't miss out, here are some cool tips.
Eversend to Eversend transfers are free and instant in all 5 countries.
Send money from your Eversend wallet to another Eversend wallet, to a bank account, or to a mobile money account (This is dependent on the country)
It's not only money you can send. Send airtime for all networks in all 5 countries or purchase and send Yaka electricity tokens (available in Uganda only)
Send love to mummy, daddy, hubby, wifey, brother, sister, uncle, aunt, grandma, grandpa, and all your friends.
You can also hold or exchange multiple currencies with our multi-currency wallet.
You have questions, we have the answers. (FAQs)
Qn: Who qualifies to participate in the campaign?
Ans: All Eversend customers are eligible to participate
Qn: How do I enter the draw to win?
Ans: To enter the draw, top up your Eversend wallet and send $30 (or the equivalent in your local currency) or more weekly for a chance to win $25 (or the equivalent in your local currency) to your wallet every week. The more love you send, the more your chances of winning.
Qn: Do I have to send dollars only?
Ans: No, you don't need to send dollars only to be eligible. You can send money in any currency provided it's the equivalent of $30.
Qn: To which countries can I send money?
Ans: You can send money to Nigeria, Kenya, Ghana, Rwanda, and Uganda.
Qn: How many times am I allowed to win?
Ans: You are allowed to win as many times as long as you are among the people who sent $30 or more that week.
Qn: For how long does this campaign run?
Ans: This campaign runs for the month of February only.
Qn: Why should send money with Eversend?
Ans: Because we know you work hard for your money and so we make your money work for you by making it so simple to move your money across the world. We just happen to be affordable, convenient, and secure too.
How to contact customer support
If you are having trouble with the app, we are available to support you. Here is how you may reach us.
1. Eversend in-app chat
Open the app
Click "More" then "Help" to chat with us
2. Send us a message on Facebook and Twitter.
3. Or send us an email at support@eversend.co